Information and instructions

Store your condoms in a cool, dry place. Avoid exposure to direct sunlight and ozone.

Condoms are one of the most reliable forms of contraception. In addition to being effective, they also offer protection against sexually transmitted diseases (STDs) like AIDS. A single condom can be used only once!

How to use a condom:
1. Tear the wrapper open carefully. Be careful with nails, teeth and sharp objects, as they could tear the condom.

2. Put the condom on the erect penis before any sexual activity, since it is possible to lose drops of seminal fluid or sperm before the ejaculation.
Squeeze the teat end of the condom so that there's no air trapped inside.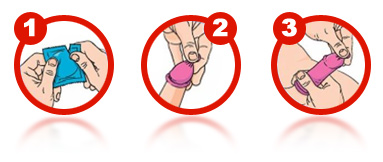 3. After that, roll the condom down all the way to the base of your penis. Should you experience some difficulties while rolling it down, do NOT pull it too firmly! It could be upside down - throw it away and wear another one.

4. Pull out directly after ejaculation before your penis goes soft, while holding the base of the condom.

5. Tie the used condom in a knot and throw it in the garbage. Do NOT wear it again! Use a new condom for every sexual intercourse.